Sri Lanka, a lush green environment, full of exotic flora and fauna, kind people, a welcome from strangers – that's a way of life here. But behind the beautiful appearance lies a troubled history; a civil war whose weapons blighted the population from 1983 until 2009; and a devastating tsunami which hit the east coast of the country with all its might in December 2004, and killed tens of thousands of people.
The beauty and the horror are, as the saying goes, two sides of the same coin. These kinds of contrasts also shape this report, which deals with one of Lemonaid and ChariTea e.V's newest social projects. We've been supporting the organisation PEaCE (Protecting Environment and Children Everywhere) since the end of 2015. It was founded in 1991 and works for the protection of children, alongside the improvement of the relevant legal frameworks and public education about prostitution, pornography and child trafficking. Sex tourism and the sexual exploitation of minors is a real issue on the island, but is generally not talked about in public. One reason is that the upturn in tourist numbers is welcome after the tsunami, and another is that cultural sensitivities make it difficult to talk about such sensitive topics in public. Statistics say that a child is abused every 45 hours in Sri Lanka, and a woman raped every 90 minutes.
At the beginning of January, we Lemonaiders spent a day with Mohammed Mahuruf (the manager of PEaCe), and his team. Mahuruf gave us an insight into his organisation's mission, their values and goals – this is all represented in the Mission Values (see picture) printed on a banner in the conference room. He tells us about incidents that horrify us; about children abused at the hands of their parents because of bad marks at school, some of whom commit suicide, sexual abuse of babies and toddlers, sexual abuse of children by tourists, including tourists who come to Sri Lanka to help rebuild parents' houses in the wake of the tsunami and thus gain unfettered access to the children. We want to block up our ears, but we continue to listen to these sickening stories.
Luckily, PEaCE doesn't turn a blind eye (or ear) to abuse. They've been watching for 25 years. Since its foundation, the organisation has been acting as a point of contact for victims, offering psychological, legal and financial support, from paying for lawyers to funding travel. PEaCE sees all its cases through to conclusion. On average, it takes up to seven years for a trial or a conviction. As soon as any case is made public, PEaCE documents it as thoroughly as possible. The list, unfortunately, is long. At the same time, the organisation works in the field of political lobbying with the aim of bring new laws for the protection of children into force. But even that isn't enough for them – PEaCE also educates the employees of public institutions – e.g. the police. It should be noted here that Sri Lanka is has only recently emerged from civil war and that that a majority of the current police force were soldiers, who often have to learn how to deal with such a sensitive and personal topic.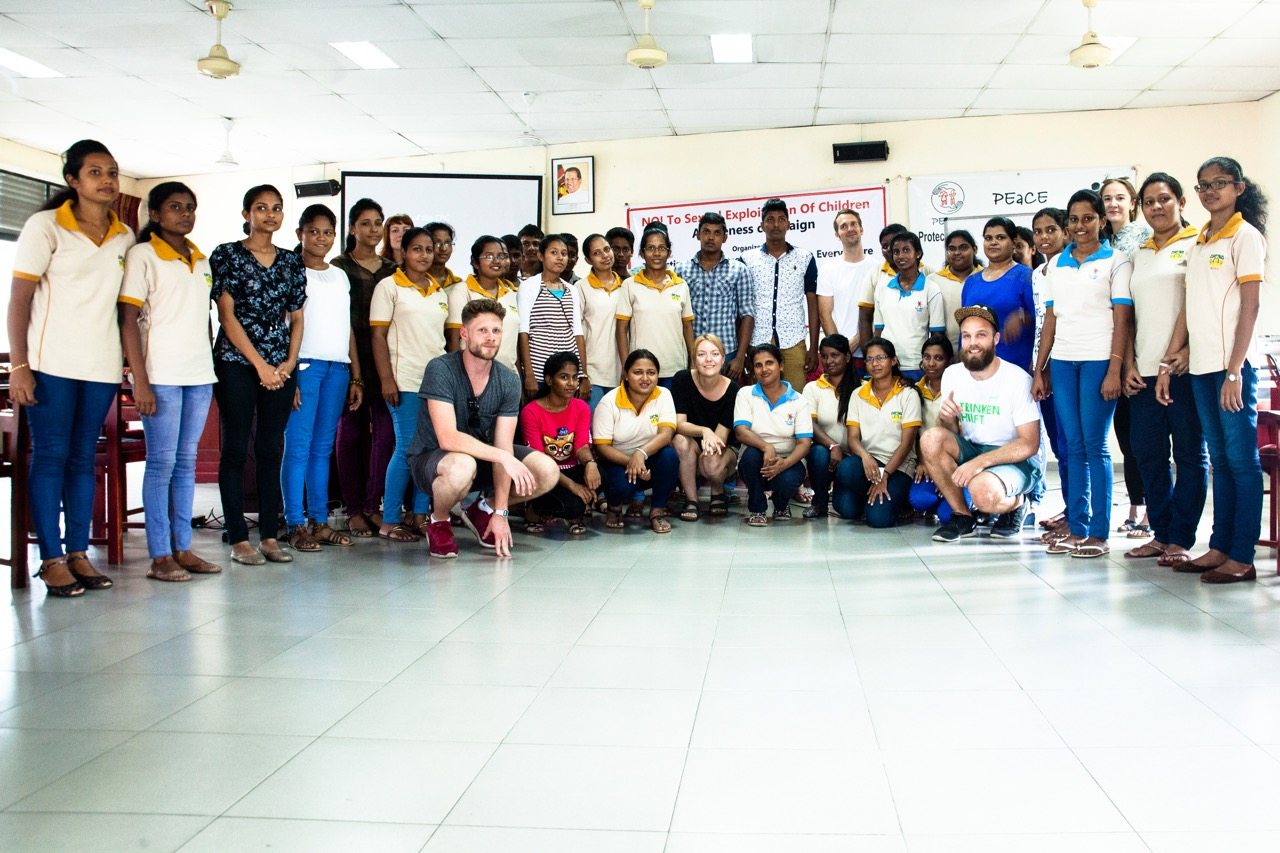 During our visit, we accompanied Mahuruf to a workshop teaching 35 members of the Youth Council all about the UN Convention on the Rights of the Child and, through group work, how to approach the spectrum of kinds of child abuse. They reflect and role play different situations, and practice appropriate intervention. Over the course of the afternoon, Mahuruf takes us to a slum area of Colombo. For many years, PEaCE has arranged for 25 children between the ages of eight and fourteen to receive additional English tuition twice a month. The parents lack the resources to fund additional tuition, and the children and young people ought to have the same chances as their peers.
We introduce ourselves to the children and tell them about what we do – then we find ourselves at the desk with them, being asked to write our names, being given brightly-coloured school books with great poems and pictures, and then making paper cranes and ships. The day ends for the students at 4pm. Every child gets a decent meal to take with them. Because of the prevalent poverty, there often isn't enough food and drink at home. PEaCE takes care of this, too. At the end of the school day, we talk to the teacher Manel de Silva about the local situation and how pleased she is to be able to keep an eye on the children in this way.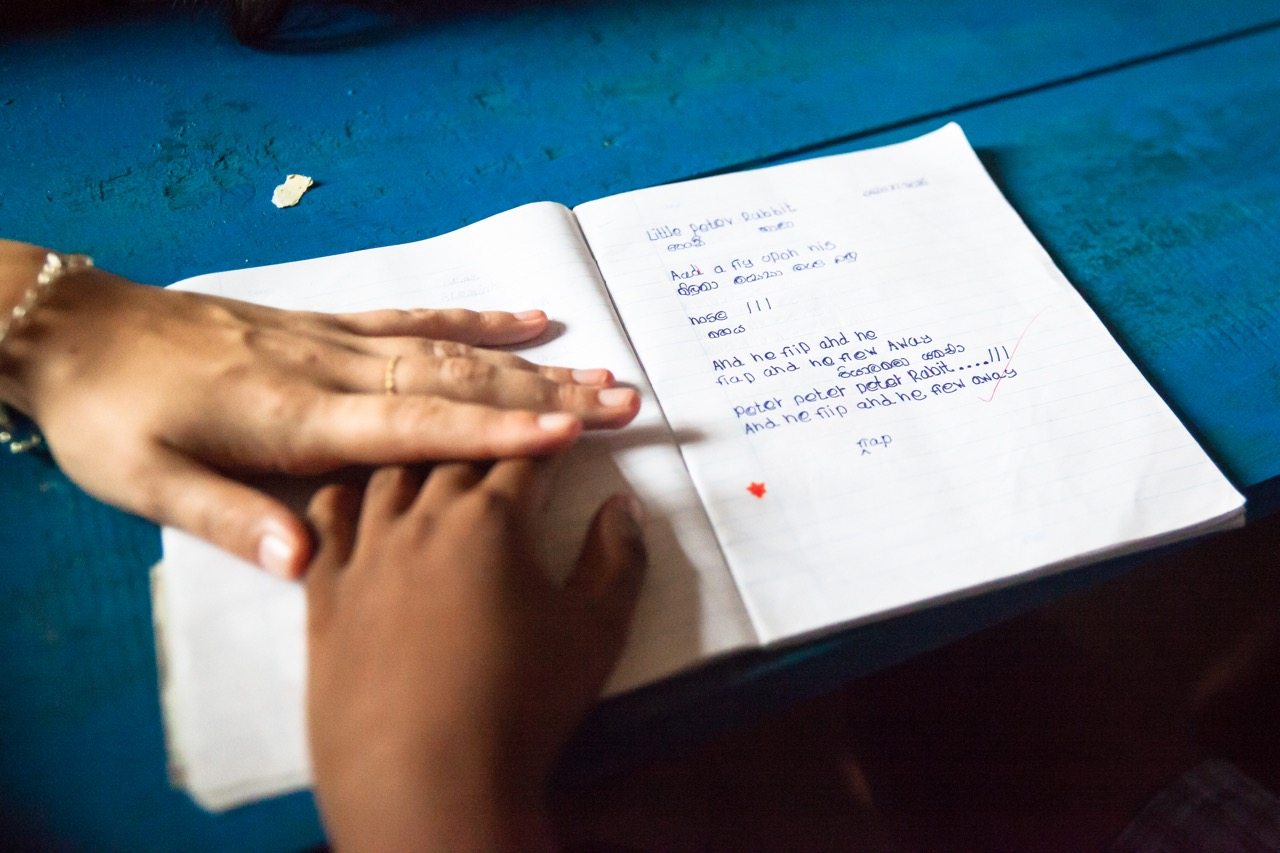 The day draws to a close for us, too. We say goodbye to Mahuruf and his team, and are eternally grateful for their efforts and what they have achieved for the welfare and protection of Sri Lanka's children. Even if we have a lump in our throats and the stories we heard keep going around and around in our heads, we are so pleased to be able to make a contribution to this vital work.
This report was written by Sarah, an employee of Lemonaid Beverages from Leipzig.